Have you read the crafting RULE BOOK?

Well, on page 16……….

rule number 738

clearly states that

"all crafting supplies should be far out of the reach of children."

That rule was broken.

I thought the paint was far enough away on the counter.

But………I forgot about the stool.

Rookie mistake.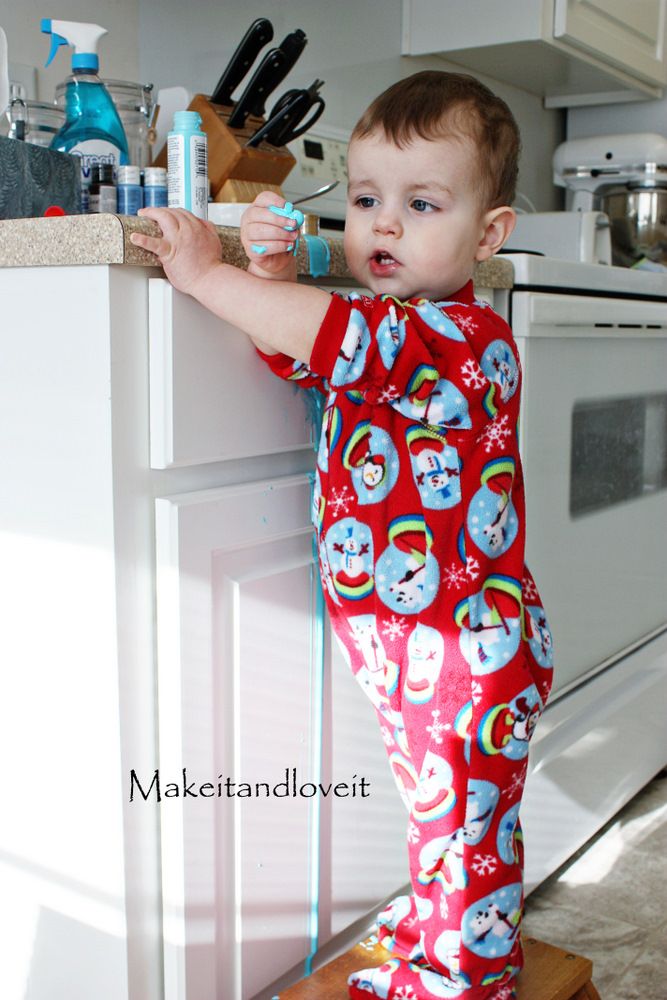 Here he kept saying "Uh-Oh Mama, Uh-Oh!"
Yeah, Uh-Oh is right, little turkey…..
And why were the paint bottles on the counter and not immediately put away after I bought them the night before?
I thought it would quickly wipe off.
That's why I pulled out the camera.


However, I had to pull out the trusty Magic Eraser to get the job done.
Make sure you read that
rule book
from cover to cover.
Or you'll be off to the store to stock up on Magic Eraser's…..and other such cleaning tools.
Edited to add: I had to post a similar child-with-paint-catastrophe that a reader sent me the link to, here. (Thanks Nike!) I just can't get over the big 'ol mess. My little blue dribbles are nothing. I looked at these pictures and first gasped, then laughed, and then almost cried for her….but then had to laugh again. How could I not, there was a big black smiley face painted on the wall?? Oh.my.word.